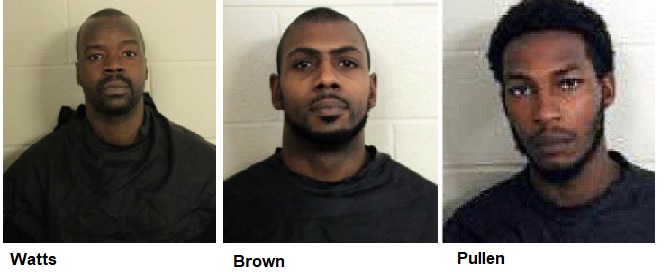 In a probable cause hearing in front of Floyd County Superior Court Judge Jack Niedrach, Wilson stated that the case started at a birthday party for Desmond Brown at his home on Cave Spring Street on the 12 of May.
According to testimony Brown was partying with several people including Richardson, Campbell, Devin Watts and Christopher Pullen.
Reports said that after Campbell and Richardson left the party, Brown discovered that his wallet was missing, and assumed that the sisters must have stole it.
Brown, Watts and Pullen proceeded to get into Brown's Volkswagen Phaeton and set out to get his wallet back. The men went and picked up the sisters before going for a ride. Wilson said that Brown was the driver with Pullen riding in the passenger seat and with Watts in the back seat along side Campbell and Richardson.
Authorities used cellphone records to show that the vehicle traveled to Alabama along backroads from Rome and back.  At one point during the drive Brown pulled over to question the women about the missing wallet. After getting back in and driving more Brown pulled over again and ordered them out, this time by gunpoint.  This is where things went bad and Campbell began to fight back.
Wilson said that Brown shot Campbell multiple times before turning the gun on Richardson and shooting her twice. Their bodies were loaded in the truck of the car.  The suspects began to drive again, making multiple stops before the final destination for the sisters.  Wilson said that the men stopped at a Mapco on U.S. 411 to buy three pairs of gloves, a water and cigar. They also stopped at Callier Forest Apartments to sell synthetic marijuana before traveling to the bypass where they dumped the sister's bodies over a bridge.
Reports said that Pullen told authorities that Brown had a Glock 9mm and Watts had a .38 revolver, in which was used to kill the victims.
Their bodies were discovered the next day, May 13, by GDOT crews doing bridge inspections near Grizzard Park.
That same morning, Brown, Watts, Pullen and four other men, who were described as Blood gang members, traveled from Rome to the home of Terry Lorenzo Wheeler on Chapel Road in Atlanta.
Wilson said that Dion Wade, Jatavious Smith, Devion Neal and Xavier Cheeks followed Brown and Watts to Atlanta.  Brown drove his own car with Pullen riding as a passenger.  Watts allegedly drove the victim's Toyota Corolla.
During the trip, while stopping to eat, Brown's mother called to notify him that she found his wallet, it was sitting behind the TV in the living room.
Wilson said that Pullen, who was riding with Brown, said that Brown became mad and said, "I just got two bodies for nothing."
Wilson said the men took the Toyota to a wooded area off Buffington Road in Union City and burned it. It was later found with cooperation from one of the suspects.
Most of the evidence was burned but a vehicle identification number was recovered.  DNA belonging to the victims was also recovered in the trunk.
Arrest of the suspects began four days later.
The case will now go before a grand jury for indictment.
The RNT contributed to this story.
PREVIOUS
Another man, Xavier Cortez Cheeks, 32 of Rome, was arrested this week after reports said he lied to police during a double homicide investigation.
Reports said that Cheeks made numerous false statements to authorities about the murders of
Cheeks is charged with two counts false statements and writings.
coosavalleynews.com