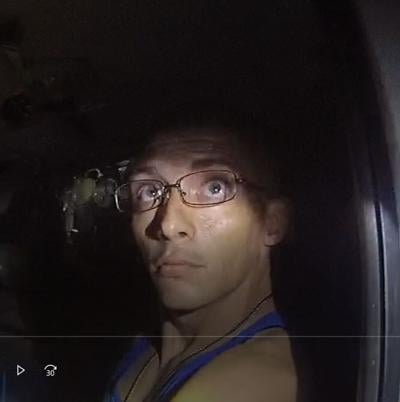 Police and the GBI are searching for a twenty-nine-year-old Texas fugitive after he fired on police, striking a Whitfield County Sheriff's Deputy, and then fled.
Dalton Potter fired on Whitfield County Sheriff's Deputies during a traffic stop. He was pulled over  while transporting a stolen trailer.
When deputies pulled him over, Potter fired numerous shots at Whitfield County Sheriff's Deputy Darrell Hackney from inside his vehicle. Deputy Hackney and responding Whitfield County Deputy Adrian Gomez returned fire, but Potter escaped driving south on I-75.
While Hackney was struck by gunfire, his ballistic vest prevented serious injury, a GBI release stated.
Potter wrecked the truck and the stolen trailer was located on I-75 South near the Whitfield and Gordon County line.
Potter escaped into the woods on foot and has not been captured. Potter is considered armed and dangerous and a "Blue Alert" has been issued for Potter's capture.
The GBI will continue its independent investigation. Once completed, it will be turned over to the Whitfield County District Attorney's Office for review.