Candidates in Northwest Georgia's 14th Congressional District runoff were spending more than $8,000 a day, each, heading into Tuesday's election.
Dr. John Cowan and Marjorie Taylor Greene are locked in a heated battle for the Republican nomination. The winner will face Democrat Kevin Van Ausdal in the Nov. 3 general election.
The heavily conservative district covers the counties of Floyd, Gordon, Polk, Chattooga, Walker, Catoosa, Dade, Whitfield, Haralson, Murray and Paulding, and part of Pickens. Voters across the district have been weighing in via absentee and in-person early balloting. All precincts will be open from 7 a.m. to 7 p.m. on Tuesday.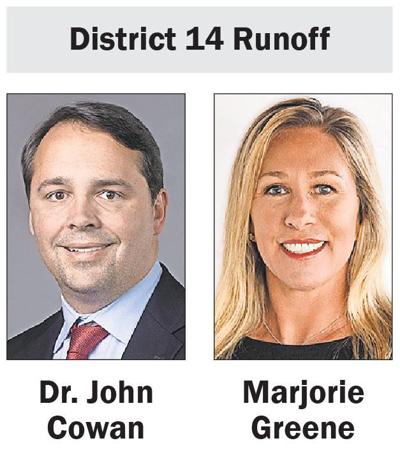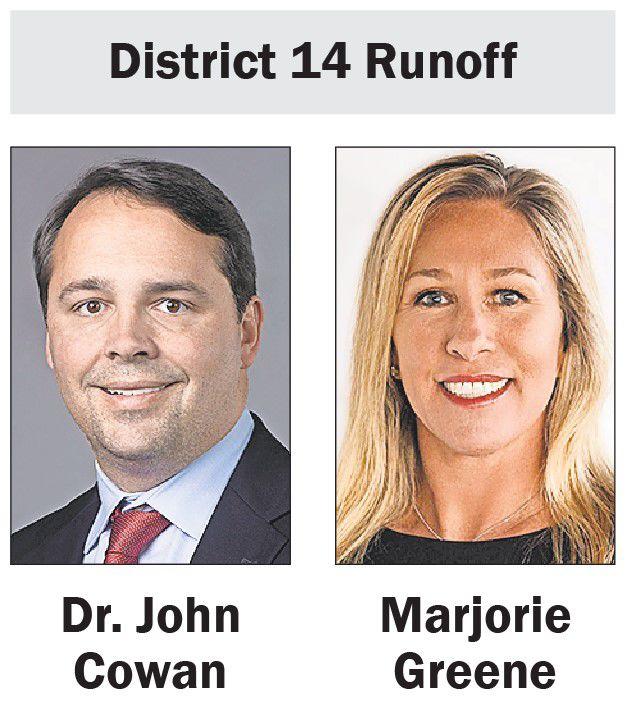 In their last financial disclosures due before the runoff, the two GOP candidates detailed contributions and disbursements between July 1 and July 21.
Greene took in another $51,649 in donations and Cowan added $186,753 to his coffers during that period. Spending for both topped $150,000 each.
Facebook was a major factor in Greene's outreach efforts, netting over $22,000 for digital advertising during the 21 days.
The construction company owner also relied on traditional media, spending $112,180 with North Carolina-based Neighborhood Research and Media for television advertising.
The two companies accounted for the bulk of her campaign's $163,000 in reported expenses.
Cowan spent just $631 on Facebook advertising but directed nearly $130,000 into outreach across a variety of platforms. Rising Tide Media in Virginia, which specializes in digital, got $63,880. Strategic Media Services, also in Arlington, was paid $64,714. The company's focus is on audio messaging for podcasts, land and satellite radio and streaming services.
Most of the $76,000 remaining in the neurosurgeon's $205,333 expense list went to paying campaign staff and consultants.
In the nine-person GOP primary, Greene won all but Floyd County, garnering 40.43% of the vote to Cowan's 21.01%.
All three candidates were asked to answer a final round of questions before the runoff. Greene did not respond.
She could not be reached and has been a no-show this week at several scheduled Republican events in the district.
northwestgeorgianews.com