Chattooga County resident and former Floyd County School System employee Derry Richardson was sentenced to 20 years in prison on Monday in Floyd County Superior Court.
Richardson is accused of being the mastermind behind a scheme that defrauded the Floyd County School System out of millions of dollars over several years.  Richardson, along with several of his family members, were accused of schemes that involved falsifying invoices for work that was never done and goods that were never received.
Judge Jack Niedrach took the recommendation from the Floyd County District Attorney's office and sentenced him to 20 years in prison, followed by 20 years on probation. There's still a question about how much restitution Richardson will be ordered to pay.
Dwayne Richardson, Jimmy Richardson, Lisa Richardson, Rodney Holder, Charles Sherman, Russell Burkhalter, Sam Tucker and Harry Bailey all entered negotiated pleas to RICO-related charges Monday morning.
Most of the defendants who pleaded guilty Monday morning were sentenced to either home confinement or probation and several will be required to pay restitution to the county schools or fines.
Derry Richardson plead guilty to the charges and will begin serving his sentence next month.
MORE (from coosavalleynews.com):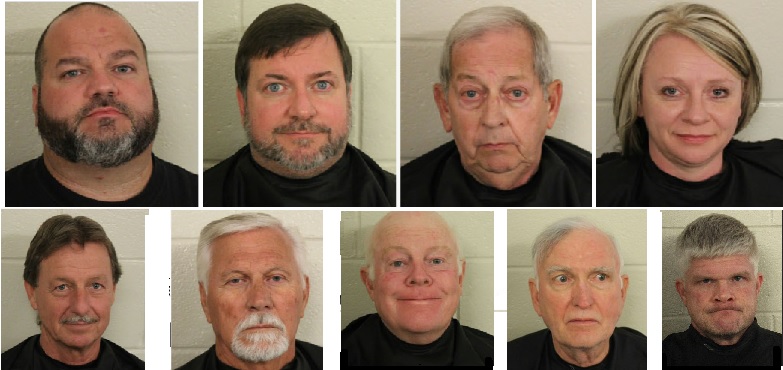 After years of investigations and court proceedings the RICO case involving Floyd County Schools and nearly a dozen defendants who stole millions of dollars came to a close on Monday with guilty pleas for those involved. According to Floyd County District Attorney Leigh Patterson nearly $6 million in stolen funds have been recovered.  Patterson said that with the guilty pleas on Monday the court brings to a close a case that could have taken until 2022 to try with the recent delays of the justice system.
First up was who authorities called the "mastermind", Derry Richardson, who worked as the school's maintenance director.  He pleaded guilty and was sentenced to 20 years in prison to be followed by 20 years of probation.
Richardson created numerous fake and inflated invoices though the school system with numerous businesses in order to gain personal finances. His attorney, Amanda Clark Palmer, said that Richardson has been cooperating with police since early in the investigation and has shown a lot of regret for his actions.  The lighter sentence of the other defendants come from him taking full responsibility for what occurred.  He will be working with authorities over the next few weeks to determine how much restitution he will pay. Then on August 10 he will report to begin his prison sentence.
The other defendants in the case; Dwayne Richardson, Jimmy Richardson, Lisa Richardson, Rodney Holder, Charles Sherman, Russell Burkhalter, Sam Tucker and Harry Bailey all also entered negotiated pleas Monday.
Rodney Holder was sentenced to 10 years of probation and a fine.
Dewayne Richardson was sentenced to 10 years, two to serve in home confinement, and a fine.
Jimmy Richardson was also sentenced to 10 years, two in home confinement.
Lisa Richardson received 10 years of probation plus restitution.
Charles Sherman received a 10-year sentence with one year to serve in home confinement and restitution.
Samuel Tucker was sentenced to 20 years probation and must pay restitution.
David Fielder, who had previously pleaded guilty, will serve 10 years on probation.
Harry Bailey was sentenced to seven years probation.
Russell Burkhalter was sentenced to 20 years, three to serve in home confinement.  Burkhalter will also have to pay restitution.
Every one of the defendants, minus Derry Richardson,  were allowed to place their plea under the First Offender Act.
A hearing for Robert Watson will be held at a later date due to current medical difficulties. His attorney advised the court that he intends to plead guilty.
The charges against Sam Sprewell and David English were dropped. However, Sprewell has agreed to present a statement concerning ethics violations and permanently surrender his educational credentials.
English has already paid back money for work not done. His attorney said that English's company, Southeastern Security Professionals, is ready and willing to do the work they had been paid for. He went on to state that his client has always maintained and will always maintain his complete innocence.
Part of the plea negotiations included a stipulation that all the defendants would withdraw from pending appeals and waive future appeals.