On the 18th of every month for the past 40 years and seven months, Gordon County,GA couple Tony and Donnie StCyr have celebrated their marriage by going out to eat, and while they'd never missed that special monthly meal, things were looking dicey earlier this month because of the state-wide shutdown that has resulted from the COVID-19 pandemic.
That is until Calhoun's  Longhorn Steakhouse Manager Mitchel Howell stepped up to offer a solution.
On Saturday afternoon the happy couple was able to continue their tradition while sitting at a table outside of the restaurant under a tent as a server wearing a face mask and gloves brought them a plated lunch.
"I really believe that's kept our marriage strong," Tony said of the monthly meal, "because instead of looking forward a year, we only have 30 days or so until we celebrate again."
The StCyrs got married on Aug. 18, 1979, and have went out to eat on the 18th of every month since. They've never missed a date, despite snowstorms, illnesses or even the birth of children that occurred just a couple days before. Tony said they dropped the baby off with Donnie's parents and went out for a bite not long after leaving the hospital.
The "monthiversary," he explained, was an idea that came from his parents, who practiced the same tradition for the entirety of their marriage. Early on in their own marriage, before they could afford much else, Tony and Donnie had plenty of monthly dates at McDonald's and Krystal, sometimes splitting an order. But even when the meal was modest, it was still important to the couple.
"It's been a blessing," Tony said.
The StCyrs said they were grateful to the staff of Longhorn for allowing them to find a way to carry on their monthiversary.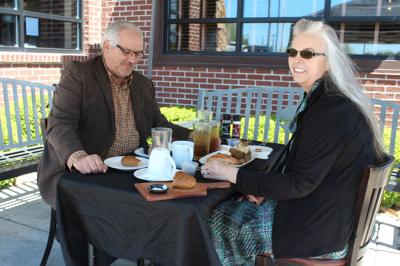 Tony and Donnie StCyr were able to continue their monthly tradition of dining out on the 18th of every month since their marriage more than 40 years ago on Saturday thanks to the Longhorn Steakhouse in Calhoun.
nothwestgeorgianews.com