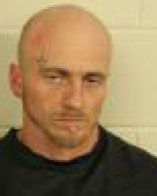 A thirty-six-year-old Trion resident was arrested in Floyd County this week on drug charges.
Floyd County Police say that Kyle Philip Boston was traveling on Bend Oak Trail just after midnight on Wednesday when he was stopped with both tag lights out on the vehicle he was driving.  Police say that Boston had suspended license.  A subsequent search led to the discovery of methamphetamine on Boston.
He was booked into the Floyd County Jail.